Aaron Hodback is 35 years of age and is one of the greatest drivers in the world.
When Aaron Hodback was 18 he became a street racer for a team known as the Roadbeasts. They were originally a team in the Hot Wheels World Race, but after Banjee went missing they became a street racing team led by Esmerelda. When Aaron joined he was officially known as the new rookie, replacing Skeet as the under dog of the team.
He had to prove himself though to actually gain as spot on the team. For this, he had to participate in a 1 on 6 race against the rest of the team. Ending up in 2nd, only to be beat by Esmerelda her self, he was officially brought into the team. Nobody thought Aaron would go as far as beating Esmerelda and becoming Road Beasts leader half a year later.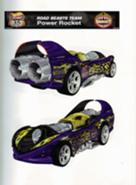 Two years later during a race Aaron was badly injured in an accident while racing with Chuvo, a former Dune Ratz. He was out of commision for 5 months, so Esmerelda took her spot back as leader. Thus leaving the team 1 racer short. Aaron recommended his best friend Marcus Lanyo. Marcus was so good they wanted him to replace Aaron.
Getting out of the hospital fully recovered Aaron had discovered Marcus had taken his place. The two of them raced for the spot on the team. Near the end both wrecked, Marcus not finishing and Aaron winning by sliding over the finish line. Aaron soon went on to regain his spot as leader of the Road Beasts.
3 years later he discovered Tezla was recruiting new drivers. He left Esmerelda in charge and jumped at the chance to race with the best. When arriving at the AcceleDrome, Lani told him no more drivers were needed. At this Aaron became furious and followed the drivers into the Swamp Realm. In the race he was spun out by a drone and almost died. He was passed by Shirako and he was helped by him to get his car working again. While on the way to the finish he saw Banjee's car.. After barely escaping the realm he slipped out in a damaged Power Rocket and told the other Road Beasts what he had seen. Shocked at this all the Road Beasts went to Tezla with Aaron to find out Banjee was no more. With this told Skeet and Esmerelda demanded to go after him. Hearing that there was no way Skeet left with Esmerelda.
Esmerelda again appointed Aaron leader and being two racers short Aaron recruited Marcus, and another friend named Benny. Another two years later after hearing Vert went missing, Aaron and the Road Beasts helped with the search. Thinking they will never find him the Road Beasts left and street raced again. Now, Aaron still leads the Road Beasts and helps out Tezla when evere possible.
Aaron is energetic, caring, tends to provoke things, a great racer, and many other things. His team never leaves him behind and vice versa. Aaron, hasn't lost many races and he is really one of the worlds best drivers.
Points Amount = 30
Power Rocket (Main)
Ballistik (Backup -fished and towed it out of swamp realm)
Nitrox 2
AcceleCharger Activater
Grappling Hook
Road Beasts Insignia
Saw Blade
Ad blocker interference detected!
Wikia is a free-to-use site that makes money from advertising. We have a modified experience for viewers using ad blockers

Wikia is not accessible if you've made further modifications. Remove the custom ad blocker rule(s) and the page will load as expected.